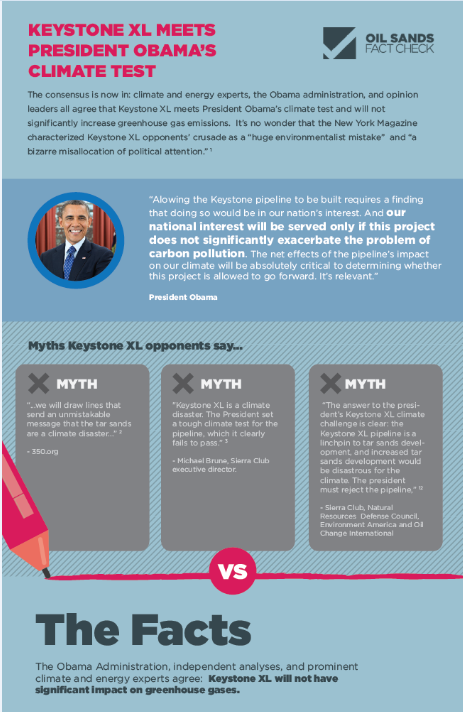 Click above to view the full infographic.
Today, Tom Steyer, along with his group NextGen Climate Action and the Center for American Progress Action Fund, will hold a climate summit to explore, as they say, "the pivotal question President Obama posed during his June 25th speech at Georgetown University: Would Keystone XL 'significantly exacerbate' carbon pollution?"
Of note, this event comes as a growing number of diverse voices are challenging opponents' claim that Keystone XL would be "game over" for the planet.  Perhaps the New York Magazine critique stands out the most: it characterized  opponents' "crusade" as a "huge environmentalist mistake" and "a bizarre misallocation of political attention," going on to add that they have "built a strategy upon what was at best a rickety factual premise."
Is Tom Steyer ready to respond to the criticism that his entire effort has been a "mistake"? Will he acknowledge the growing evidence that his campaign is based on symbolism over facts? Or will Steyer use this forum as yet another paid advertisement featuring the usual suspects who fail to acknowledge what leading climate and energy experts are saying about Keystone XL?  Our guess is the latter as the invited panelists have already participated in web videos for the NRDC and will have very little new to contribute to the debate.
Of course, New York Magazine isn't alone in its critique – it follows an article in Nature which included quotes from climate scientists who were very clear that opponents had overstated their case. David Keith, a Canadian climate scientist at Harvard said, "The extreme statements — that this is 'game over' for the planet — are clearly not intellectually true…" David Victor, a climate-policy expert at the University of Californiaexplained, "As a serious strategy for dealing with climate, blocking Keystone is a waste of time. But as a strategy for arousing passion, it is dynamite."
Numerous editorial boards have agreed: Remember, a Washington Post editorial from several months ago stated, "Environmentalists are fighting the wrong battles" and "the activists ought to pick more important fights. Until they do, the president should ignore their pressure." A Nature editorial concurred, noting "[R]egarding the Keystone pipeline, the administration should face down critics of the project, ensure that environmental standards are met and then approve it. As Nature has suggested before, the pipeline is not going to determine whether the Canadian tar sands are developed or not." Bloomberg Business Week also concluded that, "The fact that McKibben and his organization have made the proposed pipeline the bête noire of the entire environmental movement—and the litmus test by which they vow to judge President Obama's integrity on the environment—seems arbitrary."
And what has the Obama administration had to say about opponents' claims? EPA Administrator Gina McCarthy told Boston Globe reporter David Able in an interview last month that, regarding Keystone XL, "If there's oil there, someone will find it and use it."  As Able tweeted later, "EPA administrator Gina McCarthy didn't buy the argument that blocking the Keystone pipeline would prevent the extraction" of Canadian oil sands. That interview came just days after she said on PBS's "News Hour" that EPA's work on climate will not be affected by Keystone XL: "No one project is going to take that away from us." Administrator McCarthy's comments are right in line with the State Department which found in its 2013 draft assessment that Canada will develop its oil sands "with or without the project…approval or denial of the proposed project is unlikely to have a substantial impact on the rate of development in the oil sands, or on the amount of heavy crude oil refined in the Gulf Coast area."
Energy experts have also weighed in: just this past month, the International Energy Agency (IEA) chief economist Fatih Birol said that oil sands contribute to greenhouse gas emissions, "But the difference in getting oil from oil sands when compared to conventional oil, it is such a small contribution that it will be definitely wrong to highlight this as a major source of carbon dioxide emissions worldwide."  If that isn't enough, energy experts at IHS CERA issued a report this past summer stating that Keystone XL will have "no material impact" on greenhouse gas emissions. The report finds that heavy crude oil will be refined in the U.S. Gulf Coast refineries regardless, but without Keystone XL, much of that crude will be imported from Venezuela instead of Canada. As the report states, Venezuela will be "the number one beneficiary of a negative decision" on Keystone XL.
So to recap: the overwhelming consensus from climate and energy experts, the Obama administration, and prominent research organizations is that Keystone XL will not significantly increase greenhouse gas emissions.  Meanwhile, the pipeline is the key to energy security, the creation of tens of thousands of jobs and a stronger economy.  So the list of reasons to build Keystone XL is, as Senator Landrieu (D-LA) rightly put it, "as long as the pipeline itself."
Will President Obama listen to the growing number of diverse voices, including experts in his own administration, who are saying Keystone XL meets his climate test or will he cave to a billionaire activist?
To view the full infographic, click HERE.