Friday, September 19, 2014 marks the six year anniversary of TransCanada's submission of its application to build the Keystone XL pipeline.  Ahead of that anniversary, Oil Sands Fact Check is releasing an infographic detailing the long history of President Obama's delay on the pipeline.
Keystone XL is as important today as it was six years ago. While unrest ensues in major oil producing countries, now, more than ever, we need to have a stable supply of oil from our friend and ally, Canada.
Keystone XL enjoys "almost universal" support.  It would create thousands of American jobs and increase North American energy security, while having a minimal impact on the environment –
yet the president continues to delay approving the project.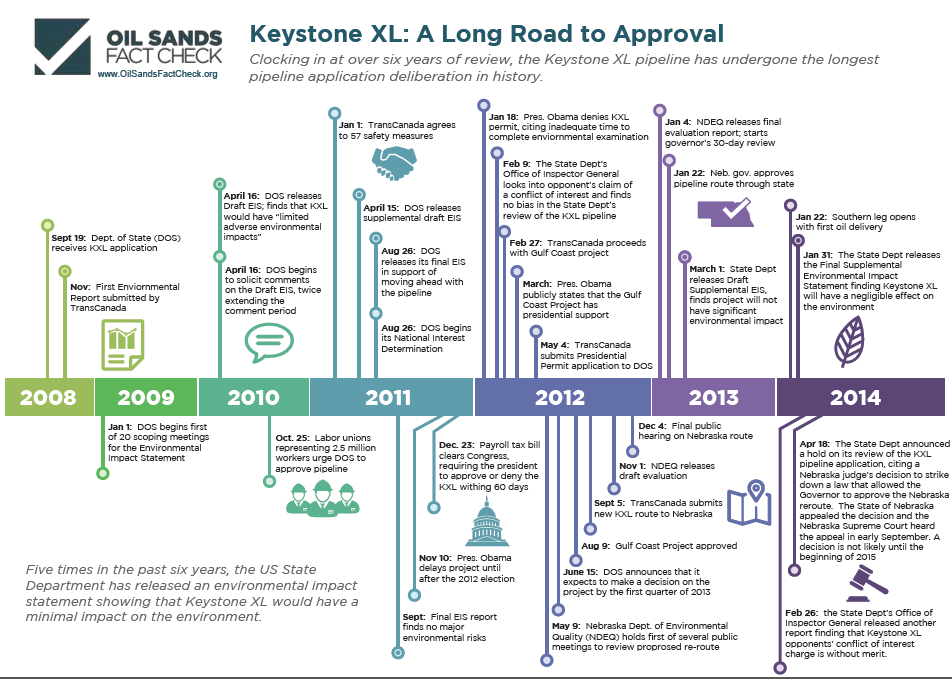 The American public has long seen through these tactics. A Bloomberg poll at the end of last year found that over 60 percent of Americans believe President Obama's delay of Keystone XL is due to politics rather than "legitimate concerns." Perhaps that's why Democrats and Republicans on the campaign trail can agree it's time for President Obama to approve the pipeline. Whether it is in Kentucky or Louisiana, Alaska or Arkansas, there is overwhelming bipartisan agreement that this delay needs to end.
Obama's Latest Keystone XL Delay Called "Absurd"
The president's latest stated reason for delaying a decision on the pipeline is because of a court case in Nebraska. Yet as forty-four groups, ranging from North America's Building Trades Unions to the National Association of Manufacturers, explained in a letter earlier this year, this excuse is completely unjustified. As they write:
"On April 18, 2014, the State Department once again delayed the final NID decision just days before the determination was scheduled to be completed—attributing this delay to a court decision currently under appeal in Nebraska. There is no reason for the president to delay issuing the cross-border permit due to a state appellate court proceeding. Keystone XL enjoys the support of the Nebraska governor and policymakers. Nebraska conducted a thorough route assessment. Furthermore, the State Department has found in all five environmental reviews that the project would not significantly impact the environment, including the various route options through Nebraska. The issue of our national interest will not be affected or changed by the outcome of the Nebraska decision."
These business and labor groups aren't alone.  Remember, the Washington Post noted that the situation was "absurd" writing in an April 23rd editorial:
"The administration's latest decision is not responsible; it is embarrassing. The United States continues to insult its Canadian allies by holding up what should have been a routine permitting decision amid a funhouse-mirror environmental debate that got way out of hand. The president should end this national psychodrama now, bow to reason, approve the pipeline and go do something more productive for the climate."
Opponents Empty "Conflict of Interest" Claim 
Remember when opponents spent months claiming that there was a "conflict of interest" at the State Department?
Upset with multiple State Department environmental reports finding that Keystone XL would have a minimal impact on the environment, opponents asserted there must be a "conflict of interest" within the State Department and the oil industry. The Inspector General of the State Department conducted a full investigation in 2012 and a follow up "inquiry" in 2013.
In the end, the State Department was cleared. As Politico rightly noted last year, the IG's report "marks yet another defeat for the pipeline's opponents." Greenwire called it "a notable blow." But the month's long investigation and follow up inquiry served its purpose for further delay.
Multiple State Department Reports Show Keystone XL Passes Obama Climate Test
Yet of all the delays, the most bizarre is President Obama's "climate test." As the OSFC infographic shows, the US State Department has issued five separate reports in the past six years all showing that the Keystone XL pipeline is safe to build. The State Department review is supported by an overwhelming consensus of scientific experts that the pipeline clearly passes President Obama's Keystone XL climate test. As the New York Times reported,
"[W]hen it comes to the pipeline's true impact on global warming, energy and climate change experts — including former Obama administration officials — say Keystone's political symbolism vastly outweighs its policy substance … the carbon emissions produced by oil that would be moved in the Keystone pipeline would amount to less than 1 percent of United States greenhouse gas emissions, and an infinitesimal slice of the global total."
Of course, for opponents of Keystone XL, the battle has never really been about the pipeline itself, but rather a way to organize a movement to oppose all fossil fuels. But even the effectiveness of this campaign has drawn doubts. Matthew Nisbet with Climatshift is the latest to say that the pipeline opponent's campaign isn't working as intended, noting:
In terms of broader public opinion, even after three years of campaigning against the pipeline, by 2014 polls showed that though the efforts had predictably triggered opposition among liberal Democrats, majorities of moderate Democrats and Independents favored construction of the project. In other words, instead of building a new coalition, the anti-pipeline campaign had instead served to divide the opinions of liberals and moderates.10 This division is even more strongly reflected in Congress, where moderate Democrats from fossil fuel producing states have been outspoken in their support for the pipeline and harshly critical of environmentalists.11
Nisbet is hardly alone. As he notes in his article, Andrew Revkin of the New York Times "has been critical of McKibben's effort at the Keystone XL pipeline, arguing that the controversy was a 'distraction from core issues and opportunities on energy and largely insignificant if your concern is averting a disruptive buildup of carbon dioxide in the atmosphere.'" Then there is New York columnist Jonathan Chait who wrote that the "Keystone fight is a huge environmentalist mistake." A Nature editorial stated, "[R]egarding the Keystone pipeline, the administration should face down critics of the project, ensure that environmental standards are met and then approve it."
The Bottom Line
Keystone XL has repeatedly passed the State Department's extensive analyses – and it's clear it passes President Obama's climate test.  For six years, President Obama has played politics with this shovel-ready infrastructure project. It's time for him to listen to what the country actually wants — it's time to build KXL.